Welcome to UC Santa Barbara!
It is my great honor to serve this vibrant campus community, where breakthroughs in scholarship, research, and discovery happen every day.
This is made possible through our commitment to academic excellence, diversity, accessibility, and affordability, areas in which we consistently receive high national and international rankings.
We proudly enroll a competitive and diverse student body. These students are the heart of our educational mission, and the motivation of our faculty and staff. They are part of a strong university family that has included six faculty Nobel Laureates; hundreds of elected members of prestigious national academic organizations; and countless distinguished alumni, including an alumna who won a Nobel Prize in 2009.
Our combined successes are the result of a culture of interdisciplinary collaboration that is responsive to the needs of our state, our nation, and our global society. As we educate the next generation of future leaders, we strive to nurture not just great scholars, but good stewards who will go out and impact the world.
Sincerely,
Henry T. Yang
Chancellor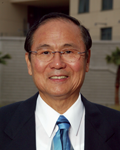 Henry T. Yang
Chancellor
Professor of Mechanical Engineering
henry.yang@ucsb.edu
(805) 893-2231
5221 Cheadle Hall